Sense of scale
Inside the remains of Rock of Cashel.
Something Askew
Fake bouquet at a grave. Rock of Cashel cemetary.
 
Side Entrance, Side Light
Market Avenue entrance to the English Market in Cork, close to closing time.
Golden Cork
View of Cork at Golden Hour. The Shandon Tower or Four-Faced Liar also clearly seen.
The Angel
The "angel" who takes her portion of the whiskey as it ages (evaporates) in the barrels. Old Jameson Whiskey Factory Tour.
Solitude
My brother walking in the Gearagh, the remnants of an ancient forest now flooded by a river.
Flooded Forest
St. Finbarr's Oratory
On the edge of Gougane Barra Lake
Inside the Oratory
Hillside Shovel
Pasture and grazing sheep right next to the historic Beehive Structures along the Dingle Loop.
Azure
Breathtaking coastal cliff views. Somewhere along the Dingle Loop.
Three Sign Posts
Milk Market Meat
Carving up fresh roasted pig on a spit at the Milk Market in Limerick.
Cobwebs
Inside St. Mary's Cathedral in Limerick.
Storms of Moher
Cliffs of Moher
Fences of Moher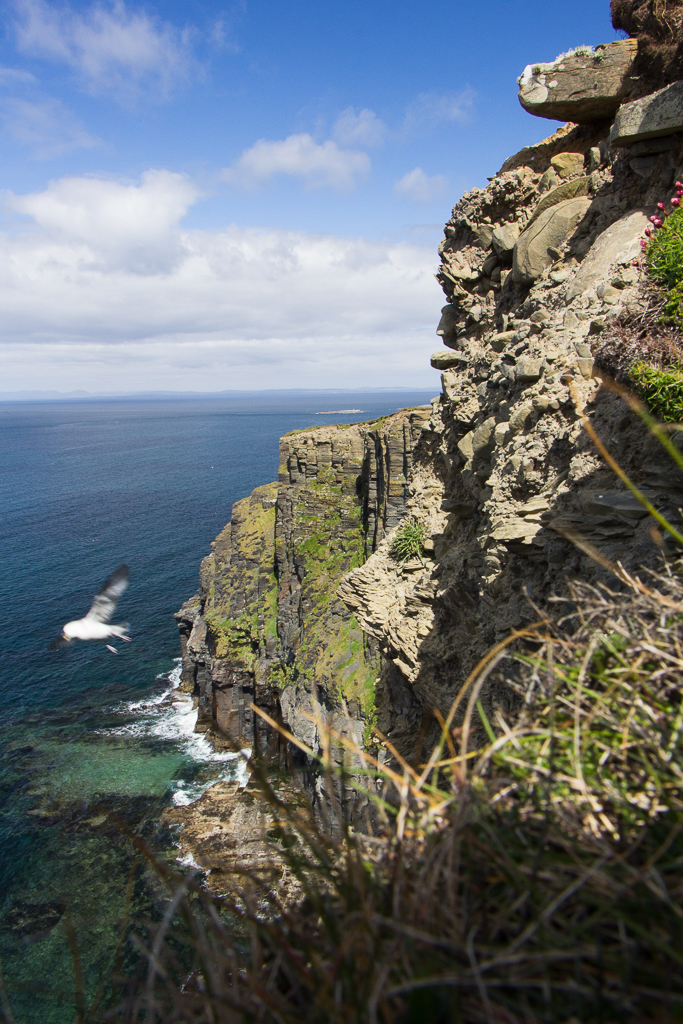 Curious Birds
The seagulls of the Cliffs were quite curious about humans.
Drive By Shooting
Moo cows somewhere between Cliffs of Moher and Galway.
 
God Bless Ireland
Inside a pub in Ros a' Mhìl, while we waited for our ferry to the Aran Island of Inis Mor.
Dun Aonghasa
The ruins of a semi-circular fortress on Inis Mor.
Old Neighbors
A rustic church next to a delapidated thatch roofed hut.
Searching for the Black Fort
A less well known fortress ruin, purposely less publicized by the locals, or so we were told.
Coastal Cliff Line
Horizon
Athenry Skies
We parked across from the Cooperative Livestock Market to stop and eat our delicious shepherd's pies to go.